A Spectacular Venue
Today's four-level Najam Baug serves as a community centre, a grand venue for weddings, religious gatherings, and personal celebrations. Each of its four halls can accommodate up to four hundred guests.
A sampling of its myriad features include:
A breathtaking forty-foot long chandelier crafted from Austrian crystal adorning the atrium
A 'Najam' (star) mosaic on the foyer's facing wall, custom made from gold and glass tiles
Luxuriously detailed wide marble staircases, designed for the smooth movement of guests
Two passenger elevators
An entire basement with car parking facilities
Special amenities for mothers with infants and the physically challenged
The Jewels of Najam Baug
Each of the four halls is named after a precious gem. The halls are titled Emerald, Pearl, Ruby, and Diamond. Each hall features a unique aesthetic decor, colour scheme, custom-built wood and glass work, marble flooring, and tiled ceilings.
The uniqueness of each hall is complemented by the features that they all share.
Each hall:
is housed on its own private floor
is fully air-conditioned
offers its own bank of wash basins and bathroom facilities
provides a secure room for the host, accessed by a secure key card
is equipped with seven state-of-the-art remote controlled cameras for recording your treasured memories, operated from a sophisticated on-site audio/visual control centre
Catering Facilities
Whether you are catering for a small gathering or a large wedding, Najam Baug offers a private kitchen with each hall, with facilities designed to assist your chosen caterer to efficiently reheat food and serve your guests.
Each of the four kitchens:
maintains an impeccable standard of hygiene
is well ventilated with an advanced exhaust system
is equipped with gas burners and fryers for warming and final preparation
offers refrigeration capabilities
is accessed through a separate service elevator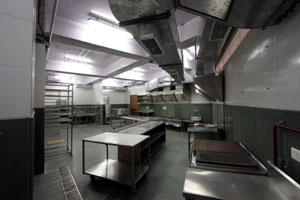 A Kitchen at Najam Baug
Our Promise to You
All of our facilities are accompanied with a promise—that we will endeavour to make your event an unforgettable one. To learn more about facilities and bookings, please contact us.